PATTERNS RELATE TO EVERYTHING
Patterns relate to everything from where potential customers are, to improving the way you do business through optimisation. Closest, Shortest, Fastest.
Solution: AfriGIS Datasets
Schedule and dispatch express parcel deliveries efficiently, to verify addresses in real time.


Point A to B: Do I have public transport available?
Use technology to view routes, plan trips, determine bus movement and budget for trips.
Solution: AfriGIS Search
Serve companies better by using AfriGIS Search to validate and verify addresses.
Solution: Land administration web system
Selecting the right property and managing the land processes and information.
Solution: Simseek location based services (LBS)
Know the exact location of the incoming call.
Solution: Marbil Mobile Marketing
Reaching customers in real time and serving ads relevant to customer demographics.
Solution: USSD application services
To know the progress and position of field workers from a mobile device.
Solution: Integrated Transportation Portal
Locate a user and navigate them from the original point to the nearest transport station or destination point.
Solution: Coverage Map
Get coverage information to maximise sales.
Solution: AfriGIS Search
Use validated addresses to determine risk and premiums.
Solution: AfriGIS Datasets
Search for verified addresses to arrive at the exact location.
Solution: Vodacom Marbil Mobile Marketing
Better understand the customers, channel relevant content and track ads served.
Solution: Trade area analysis
Identify gaps in market coverage for opening, closing or moving stores through Location Insights.
Solution: Geographic accessibility study
Maximise the population coverage that is provided by the different Service Centres.
Solution: Vodacom Quick Code (USSD)
Get real time information about the nearest registered services located in the vicinity using a mobile phone.
Solution: AfriGIS Search
Improve express parcel delivery service at the correct address the first time round.
Solution: AfriGIS Datasets
To see if the taxpayer can afford the house he/she is living in.
Solution: Geographic information solution web based engine
To identify properties and land as areas with potential for current and future investment.
Solution: Are staff at the Voting Station?
Use technology to check geographic time and attendance
Submit a single or multiple coordinates in BULK and get immediate answers. AfriGIS assists Financial Institutions to SAVE TIME with AfriGIS Enterprise Reverse Geocoding for fixed and moveable assets.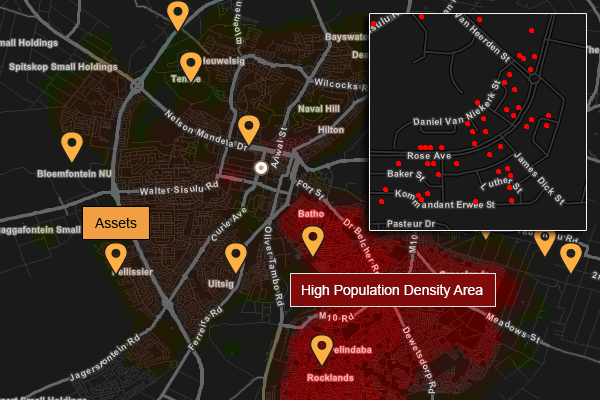 AfriGIS assists Municipalities to enhance management and control of fixed assets with the Smart City Solution.